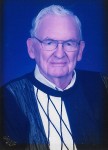 March 9, 1924
-
July 8, 2019
Born in Seattle, Washington
Resided in

Scottsdale

,

Arizona
Obituary
Scott Elliot Bird, Jr. died July 8, 2019 surrounded in love and appreciation. He leaves behind his beloved wife of 69 years, Ellsy, daughter Robin Mary and son, Scott Elliot, III. His son Sean Michael preceded him in death in 2012. His life was dedicated to providing his family with experiences, travel, continuing education and support. He was a guardian for life for his sister Bonnie Bird's children, Heidi Gundlach Smith, Scott Ashton Sinclair and Michael Gundlach, while his sister Bonnie Bird was living in London.

Scott was born in Seattle, WA to Scott and Josephine (Jo) Bird. In his grade school years his family moved to a ranch near Bothel, WA. He was born into a family of strong character, independent thinking and adventure. He graduated from Roosevelt High School in Seattle in 1942. He started at the University of WA, but quickly enlisted in the Army. He served from August 1943 to April 1946. He was very proud that for a moment in time he was the youngest Lieutenant in US Army. He served in the Military Police, as a Reconnaissance Officer and Infantry Unit Commander during the Battle of the Bulge. He was given the Purple Heart for his wounds during the Battle of the Bulge. Upon his return to the states he went back to the University of WA, Seattle to graduate with a BS in Chemical Engineering in 1949. In 1950, after barely making it back for his wedding on a slow boat from Asia, he married his beloved wife Ellsy. He began his business adventures of a lifetime. He went to work for Monsanto, then moved to the Philippines in 1955 to help create PhilRock, a construction company, PhilAir, a Cessna dealership and air charter service, Bird & Sons, Inc, then to Thailand to develop ThaiRock, Safety Insurance Company and flight services for the US Government (USN) in Laos and Thailand. He came back to the United States to start Bay Aviation and Avionics in Oakland, CA. He continued his business adventures in aviation, commercial property, and financial services.

As Dad would say " I have had a full life, I fought for my country, I protect my men to the best of my ability, I have skied the mountains of the west where I met the love of my life, Ellsy, I have loved and been loved, I have started successful companies, I learned to fly, I have landed on sandy beaches in thunderstorms, I have rescued downed pilots in mountainous terrain, I have traveled the world, I have educated and nurtured my children, I became an certified Microsoft System Engineer and Certified trainer in my 70's, I fell in love with Astrophysics in my later years, and I contributed to society until I was 90. I was privileged in 2015 to go on the Honor Flight to Washington D.C. I have lived a full and good life."


In lieu of flowers any donations may be made to any veteran's organization. Dad was a big supporter of the American Legion.
Services
Funeral Mass
St. Maria Goretti Catholic Church
6261 N Granite Reef Rd
Scottsdale
,
AZ
85250