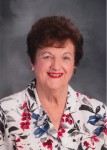 March 19, 1937
-
July 5, 2019
Born in Sandusky, OH
Resided in

Tempe

,

Arizona
Obituary
Rose Marie Gilb (nee Bauer) was born in her parents' home, in a farming community in Sandusky, Ohio. She was the oldest of four children born to Esther and Harold Bauer. Rose Marie was an active, imaginative child and a born leader. Her brother Bob can attest to their many adventures that began with her inspiration and often ended with both of them getting reprimanded.
At a very young age, Rose Marie desired a deep, personal relationship with God. In fifth grade while attending public school, she was given a catechism book that she treasured. She used this book to teacher herself about her Catholic faith and learned all the prayers it contained. The Memorare was a prayer that was special to her at this time. She was so dedicated to her faith in God the Father, Son, and Holy Spirit, that if she had been a man, she most likely would have become a priest.
Rose Marie was extremely intelligent and pursued knowledge with the understanding that it is a gift to be used and shared. She was at the top of her high school class and was encouraged to apply for a college scholarship. In applying for this scholarship, she promised God that if she received it she would serve Him the rest of her life. She was awarded a full scholarship to Mary Manse College, in Toledo, Ohio, an all-women's Catholic college run by the Ursuline Sisters. She grew up in a time and place that did not always value educating young women. But she was encouraged by the sisters who told her that to educate a women was to educate a family. She graduated Magna Cum Laude from Mary Manse College in 1959 with a Bachelor of Arts in Education. After getting married and having four children of her own, she continued her education through a distance study program offered by the University of San Francisco. She graduated from USF in 1988 with a Master of Arts in Pastoral Ministry.
During her sophomore year at Mary Manse, she was introduced to the love of her life, Tom Gilb. They met on a blind date for the Prom set up by a good college friend of hers and the rest is history as one might say. They became engaged May of 1959. Rose Marie taught 4th Grade at St. Mary's Catholic Grade School in Sandusky for a year after graduating from Mary Manse. On three day weekends, Tom would drive a whole day from Ft. Monmouth, NJ to visit her for a day in Sandusky and then drive a whole day back. She was worth it, Tom still says with a smile.
Rose Marie and Tom were married at St. Mary's Catholic Church in Sandusky, Ohio, on June 18, 1960. For their honeymoon, they loaded up a station wagon with everything they owned and headed west to Ft. Huachuca, Arizona. They had their first child there, David. One year later they moved to the Phoenix area. The rest of their children, Daniel, James and Suzanne, were all born in Phoenix.
Rose Marie was very passionate about her service to God and the education of others in the Catholic faith. This became a lifelong ministry that began in the Diocese of Phoenix on August 18, 1969 when St Joseph Parish was founded. She worked closely for Fr. John Cullinan as a volunteer. Over the years, she volunteered as a catechist, lector, Extraordinary Minister of Holy Communion, chairperson for liturgy committee, leader for young adult program, coordinator of religious education program, and many other roles as a devoted parishioner.
Rose Marie's volunteering soon became full time paid ministry work. She has worked in many capacities: Director and Coordinator of Religious Education, Director of RCIA and other programs, and also as a faculty member of the Kino Institute of Phoenix. The parishes she served over the years were St. Joseph of Phoenix, Holy Spirit of Tempe, All Saints Catholic Newman Center of Tempe, Our Lady of Perpetual Help of Scottsdale, and St. Thomas Aquinas of Avondale. She worked for a total of 34 ½ years for the Diocese of Phoenix. She retired in May of 2018. Combining her volunteering and paid employment, she served a cumulative total of 49 years for the Body of Christ in the Phoenix metropolitan area.
The impact of Rose Marie's ministry touched many, many souls over the years. Her beautiful smile, warm heart, and generous spirit permeated her relationships with others. She treated everyone with dignity and respect. She loved many souls back into union with the Catholic Church and helped support others through annulments and RCIA. Her gentle guidance urged fellow Catholics to renew their pursuit for a deeper faith. She educated and trained catechists to guide hundreds of children to know, love, and serve God. She created programs of her own for the children to engage in their learning and incorporated the families to build up the domestic churches in their homes. Her own children benefited from these many gifts. In personal discussions with each of them, she shared spiritual guidance, instructions on the faith, and her own living example of Christianity. She was always there with a listening ear and open heart. She was non-judgmental and accepted each person for who they were. She supported each of her children to explore their own talents and encouraged them in their endeavors. She was a mentor, friend, confidant, and advocate.
Rose Marie had many hobbies and one of them was sports. She liked watching a variety of sports on TV and attending games in person. Baseball was her favorite. She played baseball informally with friends as a child and really enjoyed keeping up with professional baseball teams and their players. She, her son David, and his wife Lois attended all four home World Series games of the Arizona Diamondbacks when they won in 2001.
Travel was another one of her hobbies. She and her husband Tom have traveled all over the world to numerous countries. If you have received a family Christmas letter from her, then you know that each and every year she experienced the sights, sounds, and tastes of a few new destinations. When asked by her granddaughters what was her favorite place to visit she replied Rome, Italy. In Rome, she shook the hand of St. Pope John Paul II while in a special audience with youth from Mesa, AZ. Meeting the pope and being a devoted Roman Catholic all her life would certainly make Rome a very special place for her.
Another hobby was being adventurous. Rose Marie rode in an open cockpit biplane, Cessna plane, Ford Trimotor plane, NASCAR vehicle at 100 mph around the Phoenix International Raceway, helicopters, hot air balloon, night ride in a blimp, gliders, Pink Jeep Tours, front row of the biggest rollercoasters, a red Ferrari, and a military jeep up South Mountain. She crewed races with Tom on his 18ft sailboat, shot a 45 automatic pistol, sailed on 100ft schooner and catamaran sailboats, did scuba diving on the Great Barrier Reef, and snorkeled in Hawaii. She walked on the Great Wall of China, in the footsteps of Jesus Christ in Israel, and on day old lava in Hawaii. Lastly, she enjoyed movies and admired art, especially impressionist painters. She has toured the major art museums of the world.
She is survived by her husband Tom Gilb; Son David Gilb and his wife Lois; Son Daniel Gilb, his wife Joan, and grandson Joel Gilb, Son Dr. James Gilb, his wife Dylene, and grandchildren Josiah Gilb, Samuel Gilb, and Faith Gilb; Daughter Suzanne O'Neil, her husband Joseph, and grandchildren Dr. Bridget O'Neil, Ashley Anderson and her husband Kyle, Jacob O'Neil, Isaac O'Neil, and Sarah O'Neil; Brother Robert Bauer and his wife Maryann; Sister Mary Lou Vasilev and her husband George; Brother John Bauer and his wife Mary; and many nieces and nephews.
In lieu of flowers, donations may be made to the Society of St. Vincent de Paul. Donations may be made by mail to P.O. Box 13600, Phoenix, AZ 85002-3600; or by phone 602-266-4483, or online at www.stvincentdepaul.net.
Services
Visitation
Queen of Heaven Catholic Funeral Home
1562 E. Baseline Rd.
Mesa
,
AZ
Maricopa
85204
Rosary
Queen of Heaven Catholic Funeral Home
1562 E. Baseline Rd.
Mesa
,
AZ
Maricopa
85204
Mass of Christian Burial
Holy Spirit Catholic Church
1800 E Libra Dr.
Tempe
,
AZ
85283
Burial
Queen of Heaven Catholic Cemetery
1562 E Baseline Rd
Mesa
,
AZ
85204