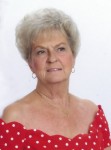 December 2, 1943
-
March 24, 2020
Born in Wadsworth, Ohio
Resided in

Tempe

,

Arizona
Obituary
Judith Elaine Greszler, age 76, lost her long battle with Alzheimer's in the early morning of March 24, 2020, at her home in Tempe, Arizona.
Judi was born in Wadsworth, Ohio to mother Gladys and father LeRoy. She attended schools in Sharon Center and Copley, Ohio. As a teenager, Judi started her life of bringing beauty to the world by finishing cosmetology school at age 16 and was a beautician/hair stylist throughout the 1960's; on occasion working three salons at one time. For years she had a salon in her rural Ohio home, providing a place of beauty and friendship for women of the area and for Firelands teens during prom. In addition to hair, she often created a corsage or two for prom dates when the young men were tight on funds.
Judi was rich with family, survived and loved by her husband Harold (Zeke) of 59 1/2 years and four children Cindy, Dianne, James and Jeff and their respective spouses. Being a grandmother was special for both her and her grandchildren Michael, Tyler, Brittany, Noah, Jonathan, Rylon, Trevor and her long-awaited great-granddaughter Eleanor. Loving them all unconditionally.
Judi was from a large family of six sisters and one brother, survived by siblings Kathy, Laurie, Mary and Jerri, along with numerous nieces, nephews and cousins throughout Ohio, Florida and Maryland.
In the 1970's Judi and family moved to Arizona where she was a book buyer for Arizona State University for several years, reupholstered and upcycled unwanted furniture and managed the office of McK's Greenhouses Company before retiring at age 62.
She loved gardening and nature, planting happiness wherever she went with flowers, trees, an old log and even a pile of rocks - making everything more beautiful than before. Wherever she lived you would find a fishpond, fountain, birds and occasionally a dog. Fairies, gnomes and tiny creatures lived among the outdoor fauna where nature found sanctuary in her gardens.
Judi exuded color - in her home, in her garden and with her clothes. She loved red, bright colors and polka dots. Everyone knew Judi from her matching neon shirts, flip flop sandals, and fingernails but always was a classic beauty any day you saw her. Her hair was always in place and done-up from her weekly visits to her favorite stylist Michael of nearly 30 years.
As much as she brought beauty, she was generous to anyone she knew. She knew what it was like to be without growing up and she always helped others when they were stuck in a hard place and would give her last dollar to someone in need. Children touched her heart; especially those with special needs.
Creativity was one of her many gifts. making something from nothing. Sewing her own curtains and decorating from discount stores, making her home look bright, cheerful and elegant from a small budget. She was involved in her children's activities whether making costumes for a parade, traveling to skating events, running a concession stand at a go-kart track or picking up and dropping off at ice hockey games.
Judi loved music, and her kids loved when mom and danced. Elvis, Cher, and Carrie Underwood were some of her favorites and was fortunate to see all in concert several times throughout her life, with her last being just a few months before she passed.
A highlight in her life was finally fulfilling a dream to go to Hawaii. Close to her 30th wedding anniversary she and her husband celebrated with her sister and husband visiting the islands of paradise enjoying helicopter and snorkel excursions, black sand beaches, exotic flora and a luau.
Those that knew her knows she was full of spunk. There was nothing she could not do if she set her mind to it. Independent was her second middle name and she never rested. She was a hard worker all her life. Up until the last weeks of her life she was cleaning, picking up and sweeping anywhere she could. She was ALWAYS doing something in the yard or at her getaway home in northeastern Arizona. Over the years, she moved tons of rocks to and from the nearby pine forest to create a special spot and rock garden overlooking the valley of Linden where her grandchildren enjoyed escaping to in summer, watching wildlife, driving the golf cart in the woods and fishing with her. She spent many months of her retired years, playing cards, doing puzzles on their back deck and beautifying this slice of her heaven on earth.
Judi loved her family and her family will always treasure their memories of her.
As her family says goodbye to her for now, they can only hope they are worthy enough to see her again in a better place.
Due to the current virus pandemic and social distancing, a small private service will be held following cremation in April at Queen of Heaven Cemetery, in Mesa, Arizona. A celebration of her life will be planned for extended family and friends once it is safe to do so.
In lieu of flowers please consider a memorial contribution to her favorite charity, St. Jude's Hospital, Hospice of the Valley or Alzheimer's Association who assisted with care and support in her last months of life.
Judi's family would cherish friends or family sharing memories or providing a copy of any pictures of her by emailing or sending a download link to rememberingjudi2020@gmail.com.
In honor of Judi, her family shares this wish to others: when you see a beautiful flower, shady tree, colorful butterfly or tiny ladybug, think of her, send up a prayer and smile.
Services
Funeral Home
Queen of Heaven Catholic Funeral Home
1562 E. Baseline Rd.
Mesa
,
AZ
Maricopa
85204
2020-05-29T