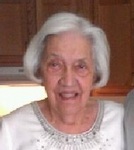 February 21, 1937
-
October 25, 2015
Born in Des Plaines, IL
Resided in

Mesa

,

AZ
Obituary
Joyce Marlene Anderson (nee Borkenhagen), 78, died at 5:12 a.m., Sunday, October 25, 2015 at The Summit at Sunland Springs in Mesa, Arizona, surrounded by all seven of her children. She was born February 21, 1937, in Des Plaines, Illinois, to Willard and Lucille Borkenhagen.
Joyce is preceded in death by her parents, Willard and Lucille, and one brother, Willard (Buzz) Borkenhagen. Her husband, William Edward Anderson Sr., passed away on October 22, 2010. She is survived by her seven children; her sons, William Jr (Debbie), Ernest(Pauline), Michael(Richard), Raymond(Michel), Kurt(Deanna) and her daughters, LuAnn Tansley(Alex) and Karen Jensen(Bradley); 16 grandchildren and four great grandchildren.
Joyce went to High School in Des Plaines, IL, at Maine Township. She met her husband to be, William(Bill)Anderson while visiting the home of her friend, Carol Anderson. Bill returned home from service overseas to surprise his family, ended up meeting and falling in love with his wife to be, Joyce, and they would wind up spending the next 54 years together. Joyce went on to be a loving wife and attentive mother to seven children, from 1957 to 1979. When her husband fell ill from the effects of asbestos in 1979, she found herself in new territory. Having been out of the workforce for some time raising a family, Joyce now had to take on the role of primary provider for the family; as her husband focused on his health and raising those left at home. A caring neighbor offered her a job at her company. Joyce was off on a new adventure. The family moved to Mesa, Arizona from Hoffman Estates, Il, in 1983. Joyce found employment at Lee Optical, then at America West Airlines. It was at America West Airlines Joyce found fulfillment working for an employee owned airline as an account payables clerk. She spent the next 16 years at America West and loved her job. Her other loves were her grandkids; spoiling them and having them over for sleepovers. She loved her animals too, her dog, Fred and cats, Teapot and Snuggles were her constant companions after her husbands passing in 2010. Joyce loved baking, it was her passion. Everyone knew of Joyce's brownies and Lazy Daisy cakes. She baked and baked, bringing in treats for years to celebrate; from family members and co-workers birthdays to a daughters wedding cakes. Also, to providing deserts to Paz de Cristo, a local Mission To Feed, Clothe, and Empower those in need in the East Valley. Joyce's strengths were her personal commitments to truth and honor, showing compassion to others less fortunate, and most of all, her devotion to family. She will surely be missed by the many she leaves behind, but to those that knew her best, know she is celebrating being with her husband Bill once again. Visitation will be held from 5 - 8 p.m. Thursday, October 29, 2015, at Queen of Heaven Catholic Mortuary, 1562 E. Baseline Rd., in Mesa, Arizona, Funeral service will be held at 11:00 a.m., Friday, October 29, 2015 at Queen of Heaven Catholic Mortuary followed by the burial. In lieu of flowers, memorial donations may be made to the Paz de Cristo Organization, at https://pazdecristo.org/?page_id=222 , To Feed, Clothe, and Empower those in need in the East Valley, 424 W Broadway Rd, Mesa, AZ 85210 or to Autism Society of Greater Phoenix http://phxautism.org/donate/#/1/1 , Helping Families One Family At A Time For Over Forty Years.
The family wishes to extend their deepest gratitude to; The Summit at Sunland Springs for their loving attention and professional care of her during her stay.
Services
Visitation
Queen of Heaven Catholic Mortuary
1562 E Baseline Rd
Mesa
,
AZ
USA
85204
Service
Queen of Heaven Catholic Mortuary
1562 E. Baseline Rd.
Mesa
,
AZ
Maricopa
85204
Cemetery
Queen of Heaven Catholic Cemetery
1562 E Baseline Rd
Mesa
,
AZ
85204