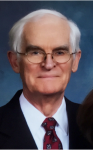 August 24, 1932
-
July 3, 2019
Born in Polonia, Wisconsin
Resided in

Chandler

,

Arizona
Obituary
Eugene (Gene) B. Spitza, 86, formerly of Oconomowoc, WI, passed away on July 3, 2019, in Chandler, AZ, surrounded by his wife and family.

A funeral mass will be held at Corpus Christi Catholic Church in Phoenix, AZ, on August 2 at 10 a.m. Burial will follow at Queen of Heaven Catholic Cemetery.

Gene was born in Milwaukee to Regina and Edward Spitza on August 24, 1932. He married Mary Ann Hoefler on June 28, 1958, and together they raised six children in their home in Wauwatosa. He attended Messmer High School, graduated from Marquette University with a degree in civil engineering, and worked the bulk of his professional career for Highway Pavers, which later became Zenith Tech. He was president of the company at the time of his retirement.

Gene is survived by his wife Mary Ann; children Gene Spitza Jr. and wife Cindy (Tulsa, OK), Anne Spitza (Phoenix, AZ), Dan Spitza and wife Monica (Phoenix, AZ), Katie Spitza (Idaho Falls, ID), Joe Spitza and wife Sheila (Chicago, IL), Mary Ellen Kaminski and husband Scott (Arbor Vitae, WI); siblings Rosemary Cera and Al Spitza; grandchildren Rachael Aikins, Lauren Codding, Jack Spitza, Max Spitza, Pam Roesch, Hannah Staros, Kathryn Kaminski, Clair Kaminski; great grandchildren James Aikins II, Ben Aikins, Martha Codding, Mary Codding.

In lieu of flowers, the family asks any donations be made to an Alzheimer's research foundation or support organization of your choice.

The family of Gene Spitza wishes to extend a special and very personal thank you to Tanya Caruso, whose compassionate caregiving for Gene in recent years has been deeply appreciated.

Gene was a kindhearted, gentle and generous man known to his friends and colleagues as a man of integrity, easily recognized in a crowd by his tall stature and striking silver-white hair, and beloved by his family for his quick wit, loving presence and guidance, innate attention to detail and unwavering Catholic faith and devotion.

Devoted to his wife Mary Ann, Gene raised his six children to be independent individuals, Packer fans, defensive drivers and to find contentment in the choices made and the paths chosen. Not a man of many words, Gene was an engineer at heart and approached life with an innate sense of logic and reason.

Gene would unabashedly admit to not being a handy-kind-of-guy like his father and brother, but his analytical mind was uniquely balanced by his hands-on skills for refurbishing antiques and a self-taught talent for wood carving. As an artist, his favored muses were the patriotic American bald eagle and a variety of interpretations of Santa. His taste in antiques was decidedly early American. His kids recall many-a-trip to the lumber yard climbing piles of wood with their father to find just the right cut of timber for a carving and crawling around in barn lofts "junking" for antiques while their dad chatted with the farmer. The loving care Gene had for his family was mirrored in the many refurbished antiques and carvings that graced his home - items now lovingly treasured by his family and friends.

A devout Catholic, Gene held a deeply private and unwavering faith. As the story goes, he stopped by a church to send up a prayer on his way to ask his bride-to-be to marry him. No one knows if he was hedging his bets to get a "yes", if he sent up a request for a blessed union, or perhaps both. Ultimately, he was honored with a long and happy marriage to the love of his life and a house full of offspring.

To his wife, Gene was a rock and a lifelong partner whom she spent no more than a few dozen nights apart from during their 61-year marriage. To his children, Gene was a dad they looked up to, a role model, a man they turned to for advice, a gentleman with inner fortitude yet a kind and loving way about him. In their youth, his kids dreaded disappointing their dad, but recall he more often reveled with pride in their successes than dwelling on missteps. Gene, who put himself through college, was immensely proud that he was able to put each of his children through college and start them on their own life paths.

Gene's professional career as a civil engineer spanned more than 40 years based in Milwaukee. He began working for Highway Pavers while he was in college and worked his way up the ranks to become president of the company, which later became Zenith Tech. During his tenure, he was involved in numerous bridge building projects across Wisconsin and the upper peninsula, including the Hoan Bridge and the original Marquette Interchange. He worked politically in WI and Washington, DC to ensure funding for Wisconsin road and bridge construction concerns and served as president of the Wisconsin Road Builders Association for one term. At that time, WI Governor, Tommy Thompson, told one of Gene's sons how much he respected Gene for being a gentleman in a not so gentle industry.

In recent years, Gene fought a valiant and dignified battle with Alzheimer's, remaining steadfast in his faith and never leaving his wife's side. He will be dearly missed. Everyone who loved Gene still feels his presence and knows he is finally home with Christ.
Services
Funeral Mass
Corpus Christi Catholic Church
3550 E Knox Rd
Phoenix
,
AZ
85044
Interment
Queen of Heaven Catholic Cemetery
1562 E Baseline Rd
Mesa
,
AZ
85204